What is an investiture?
As one of the oldest traditions in academia, originating from English universities and modeled after knighthood ceremonies, an investiture is an opportunity for a university to officially recognize its new leader. First coined in the 14th century, the word investiture derives from the Latin phrase for dress in robe. In academic circles, this term has come to mean a leader who will represent the university's insignia and regalia.
The installation of a new chancellor is a formal event complete with traditions, protocols, and symbols. During an academic procession, delegates from UW–Madison, as well as elected officials and delegates from other universities around the world, represent their institutions by wearing colorful academic regalia. The ceremony features a musical prelude, processional, keynote address, remarks from campus and community constituencies, performances, an inaugural address by the chancellor, singing of Varsity, and a recessional.
Why is UW–Madison hosting an investiture?
Over the past 175 years, UW–Madison has had only two investiture events. In 1850, the university had its first investiture with Chancellor John Lathrop, and more recently, in 2008, with Chancellor Carolyn "Biddy" Martin. Chancellor Jennifer L. Mnookin's investiture offers a valuable opportunity to share some of the exemplary things happening here on campus, highlight past accomplishments, and consider what the future may hold.
While an investiture signifies a new chapter for a university and its leader, it also represents an opportunity for community celebration and recognition. The Office of the Chancellor and campus leadership recognize the tremendous impact that students, faculty, and staff have on the community and beyond. Leading up to the investiture, several events showcasing this impact are scheduled.
Ceremonial symbols and traditions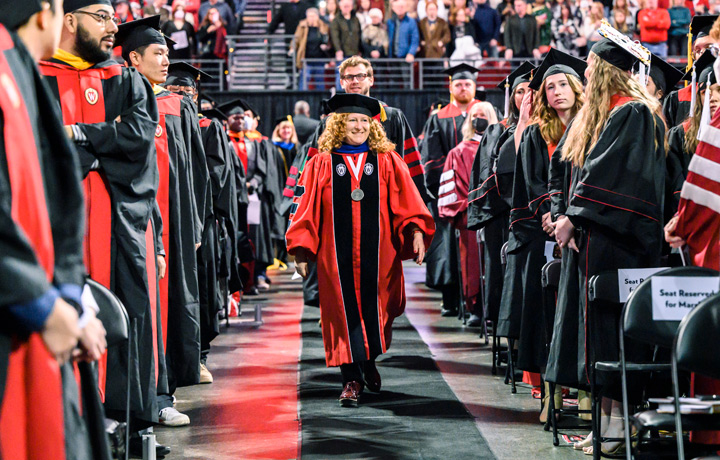 Academic Regalia
The academic regalia worn during the ceremony represent three levels of academic achievement. A bachelor's gown symbolizes the first degree and is made of black material with a closed front and long, pointed, open sleeves. Master's candidates wear a black gown that features a closed front with long, closed sleeves. Doctoral candidates wear a gown with an open front and bell-shaped sleeves. Doctoral gowns are embellished with velvet trim in the form of crossbars on the sleeves. Some institutions have authorized doctoral gowns in colors other than the customary black; holders of the University of Wisconsin–Madison doctorate wear gowns embellished with accents of red and the official crest.
The hood is lined with silk in the colors of the institution that granted the highest degree held by the wearer, and the color of the bordering velvet indicates the field of study to which the degree pertains. University of Wisconsin–Madison graduates, for example, wear a hood lined in red satin.
Medallion
As UW–Madison's official seal and motto since 1854, the Latin phrase "Numen Lumen" is a renowned mark reserved for prestigious events, such as investiture. Literally, it means "God is the light," or, as the UW's first chancellor, John Lathrop, who assisted in the creation of the motto, more broadly interpreted it to mean: "The divine within the universe, however manifested, is my light."
In 2023, the chancellor's medallion, featuring the Numen Lumen, was recast. Faculty and students of the College of Engineering and UW Makerspace took a mold of the original medallion and made a cast for a larger mold, five inches in diameter, out of pewter. The medallion will be officially bestowed as part of the investiture ceremony and will be worn at commencement and convocation events moving forward.
This is an accordion element with a series of buttons that open and close related content panels.
Advisory Group
Reez Bailey
Vice Chair, Associated Students of Madison
Russ Castronovo
Tom Paine Professor of English and Dorothy Draheim Professor of American Studies, College of Letters and Science
Catherine Chan
Assistant Vice Provost for High Impact Practices, Diversity, Equity & Educational Achievement
Jon Eckhardt
Associate Professor, Discovery Fellow School of Business at the Wisconsin Institute for Discovery
Ndemazea Fonkem
Chair, Associated Students of Madison
Susan Hagness
Professor, Chair, Electrical and Computer Engineering
Eden Inoway-Ronnie
Chief of Staff, Office of the Provost
Gabe Javier
Associate Vice Chancellor, Student Affairs
Torsheika Maddox
Senior Operations Officer & Chief of Staff, Diversity, Equity & Educational Achievement
Mallory Muslof
Associate Director, Office of Training Grant Support
Lauren Papp
Associate Dean of Research, Jane Rafferty Thiele Professor in Human Ecology HDFS, School of Human Ecology
Dean Tokaji
Dean, Law School
Christopher Walker
Director, Division of the Arts
Cathleen Walters
Associate Dean for Advancement, College of Engineering
John Zumbrunnen
Vice Provost for Teaching & Learning, Office of the Provost
Council Members
Kari Backes
Manager, Babcock Dairy Store
Ross Berge
Building & Grounds Supervisor, Facilities Planning and Management
Cassandra Bocchieri
Alumni Relations Manager, Engineering External Relations
Shane Burgess
Director of Events, UW Athletics
Meg Cerny
Event Coordinator, Wisconsin Union
Kelley Conway
Professor Communication Arts, College of Letters and Science
Susan Cook
Professor and Academic Program Director, Mead Witter School of Music
Kelly Copolo
Academic Program Specialist, Division for Teaching and Learning
Deb Curry
Official Functions Coordinator, Office of the Chancellor
Stephanie Diaz de Leon
Diversity & Inclusion Consultant, Wisconsin Union
Susan Dibbel
Deputy Director, Wisconsin Union
Kristina Flores
Events Manager, Diversity, Equity and Inclusion
Shelby Fosco
Co-Curricular Program Manager, Morgridge Center for Public Service
McKenzie Glynn-Zdrale
Managing Director, Engagement Programs, Wisconsin Alumni Association
Amy Guthier
Community Engagement Director, Wisconsin Union
Mark Guthier
Associate Vice Chancellor and Executive Director, Wisconsin Union
Brandon Habron
Registration Coordinator, Wisconsin Foundation and Alumni Association
Jennifer Hanrahan
Executive Assistant to the Chancellor, Office of the Chancellor
Tony Hansbro
Appeals & Special Events Manager, Facilities Planning and Management
Brian Heller
Director of Operations, Mead Witter School of Music
John Horn
Chief of Staff, Vice Chancellor Finance & Administration
Calli Hughes
Event Coordinator, Office of the Chancellor
Gabrielle Javier-Cerulli
Wheelhouse Studios Program Director, Wisconsin Union
Cody Kastorff
Executive Assistant, University Relations
Peter Kleppin
Executive Producer, Video, University Communications
Heidi Lang
Chief Student Engagement Officer, Wisconsin Union
Brad Lanza
Wisconsin Welcome Programs Coordinator, Center for the First-Year Experience
José Luis Ramirez, Jr.
Assistant Director of Civic Engagement, Morgridge Center for Public Service
Liam McLean
President, Senior Class Office
Bailee McNair
Assistant Director of Hospitality & Events, Kohl Center
Morgan Michaels
Cuisine Advisor, Wisconsin Union
Missy Nergard
Sustainability Director, Facilities Planning and Management
Tina Nielsen
Associate Dean for Operations and Staff, College of Letters and Science
Jennifer Noyes
Chief of Staff, Office of the Chancellor
Scott Owczarek
Associate Vice Provost and University Registrar, Office of the Registrar
Hattie Paulin
Director of Engagement Operations, Wisconsin Foundation and Alumni Association
Maryellen Pawley
Executive Assistant, Office of the Chancellor
Melisa Perez
Administrative Assistant, Office of the Chancellor
Omar Poler
Indigenous Education Coordinator, Division for Teaching and Learning
Catherine Reiland
Assistant Vice Provost, Director, Wisconsin Idea Seminar
Heidi Richardson
Assistant Director, Catering & Support University Housing
Olivia Rossman
Cuisine Committee Director, Wisconsin Union Directorate
Brad Schenkel
Building and Grounds Manager, Facilities Planning and Management
Porter Shreve
Professor, College of Letters and Science
Greg Silver
Technical Director, Mead Witter School of Music
Argyle Wade
Chief of Staff, Student Affairs
Monica Welke
Special Assistant, Office of the Chancellor
Casey Whyte
Dairy Plant Manager, Babcock Dairy Plant
Eric Wilcots
Dean, College of Letters and Science
Board of Regents
University of Wisconsin System Board of Regents
Angela Adams
Robert Atwell
Scott Beightol
Amy Blumenfeld Bogost
Héctor Colón
Mike Jones
Edmund Manydeeds III
John W. Miller
Rodney Pasch
Cris Peterson
Joan Prince
Ashok Rai
Jennifer Staton
Brianna Tucker
Jill Underly
Dana Wachs
Karen Walsh, President
Kyle M. Weatherly
Presidents of the Board of Regents
From 1971 to today
W. Roy Kopp
Frank J. Pelisek
Bertram N. McNamara
Edward E. Hales
Herbert J. Grover
Joyce M. Erdman
David E. Beckwith
Ben R. Lawton
Laurence A. Weinstein
Paul R. Schilling
Thomas L. Lyon
George K. Steil, Sr.
Michael W. Grebe
Sheldon B. Lubar
San W. Orr, Jr.
Jay L. Smith
Guy A. Gottschalk
Toby E. Marcovich
David G. Walsh
Mark J. Bradley
Charles R. Pruitt
Michael J. Spector
Brent P. Smith
Michael J. Falbo
Regina M. Millner
John Robert Behling
Andrew S. Petersen
Edmund Manydeeds III
Karen Walsh
The history of UW–Madison
Since its founding in 1848, the University of Wisconsin–Madison campus has been a catalyst for the extraordinary. The people who live, work, and study here have created and fostered a rich tradition of national and international leadership in teaching, research, entrepreneurship, and public service. The result is a world-class institution, grounded in solving real-world problems.
From the humble beginnings of its first class of 17 students, the university has grown into a large, diverse community with nearly 50,000 students enrolled, representing every county in Wisconsin, all 50 states, and 123 countries. UW–Madison consistently ranks near the top of public universities for quality of education and for the amount of its research expenditures. Its faculty and alumni include MacArthur "genius grant" fellows, Fortune 500 CEOs, global thought leaders, and innovators in their fields.
Leaders of UW–Madison have relied on two significant principles that drive intellectual and academic life on campus: "sifting and winnowing" and the Wisconsin Idea.
The former dates back to an 1894 UW Board of Regents statement on academic freedom:
Whatever may be the limitations which trammel inquiry elsewhere, we believe that the great state University of Wisconsin should ever encourage that continual and fearless sifting and winnowing by which alone the truth can be found.
Inspired by this spirit, scholarly inquiry has fed a steady stream of discoveries. From vitamins, agricultural techniques, and wildlife ecology to stem cells, biofuels, and economic well-being, the university continues to foster ideas and research that change lives. That mission is encapsulated in the Wisconsin Idea— a concept articulated more than a century ago that the university's influence should benefit everyone in the state. Today, this principle has expanded to a global scale. The Wisconsin Idea continues to permeate everything the university does, helping to forge close partnerships between faculty, staff, and students, and people, communities, and industries around the world.
Each of the previous 29 individuals invested as leader of UW–Madison has continued and given new meaning to this work during their tenure. Chancellor Jennifer L. Mnookin has pledged to continue to champion the Wisconsin Idea, as well as the fearless pursuit of knowledge, creating a learning environment that, as the university's mission statement reads, "will help ensure the survival of this and future generations and improve the quality of life for all."
Past presidents and chancellors
From the university's first chancellor, John Hiram Lathrop, to Jennifer L. Mnookin, many influential leaders have shaped the University of Wisconsin–Madison.