The investiture of Jennifer L. Mnookin
On April 14, 2023, the University of Wisconsin–Madison celebrated the investiture of Jennifer L. Mnookin as its 30th leader and chancellor. The celebration included a series of campus community events, an academic procession, investiture ceremony, and picnic.
Thank you
Thank you to our campus partners who helped make this investiture ceremony so special.
Babcock Dairy
Facilities, Planning & Management
Hamel Music Center
Ho-Chunk Nation
Levy
Morgridge Center for Public Service
Office of Finance and Administration
Office of Sustainability
Transportation Services
Tribal Relations
UW Athletics
University Communications
University Marketing
University Relations
Wisconsin Film Festival
Wisconsin Foundation and Alumni Association
Wisconsin Union
Wisconsin Union Directorate Cuisine
Moments from the Investiture
Carousel of key historical events. Use the headings or arrow keys to navigate between slides.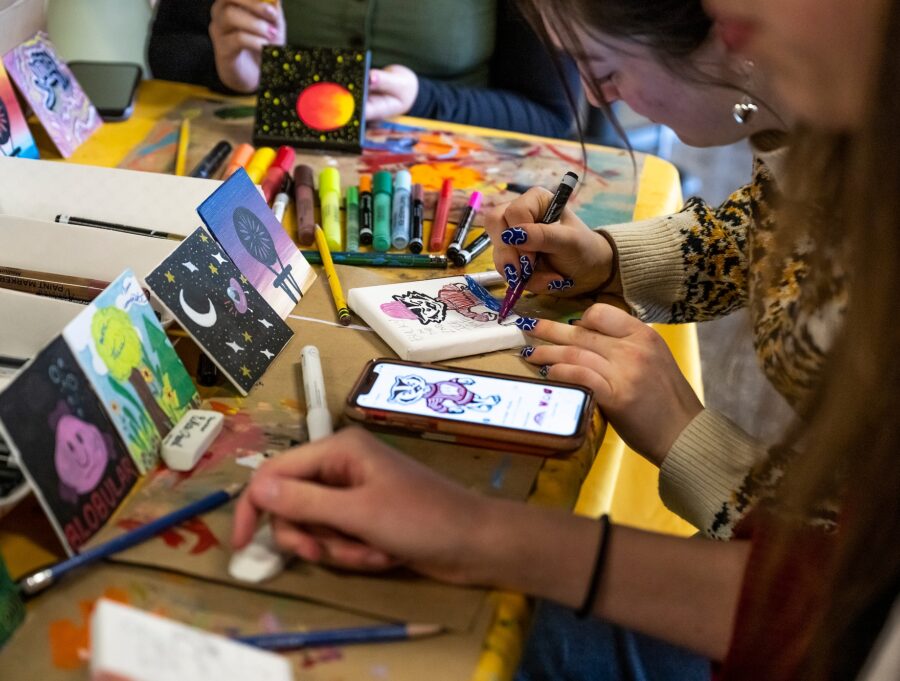 Responding to the creative prompt "Imagine UW–Madison in the year 2198," students craft their ideas into four-inch-square, mini-canvas artwork. The project, hosted by the Union's Wheelhouse Studios, kicked off a week of campus-wide celebrations leading up to the investiture ceremony.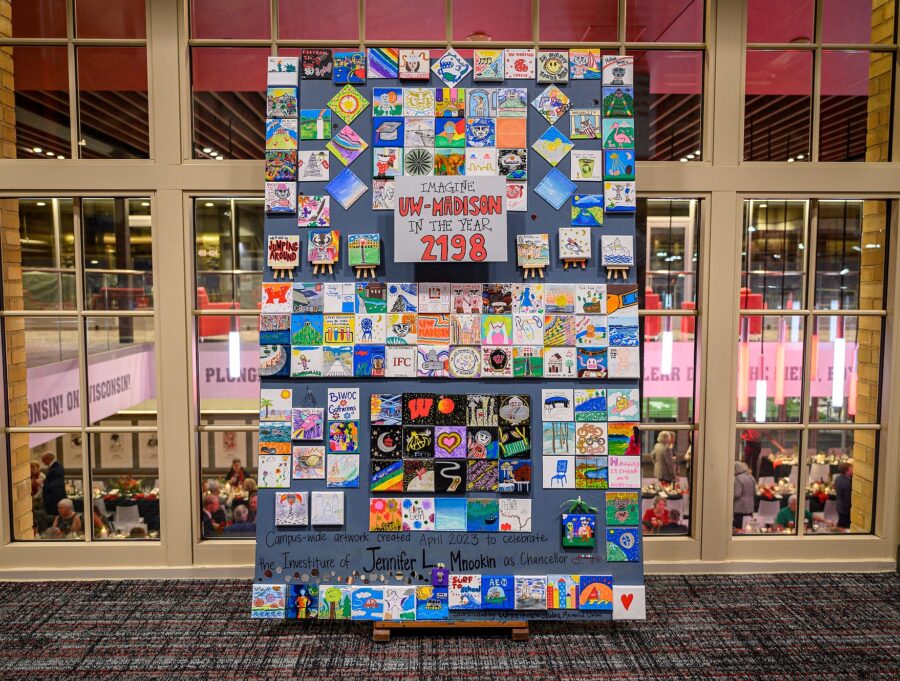 The canvases went on display as a mosaic mural at the South End Zone on April 13.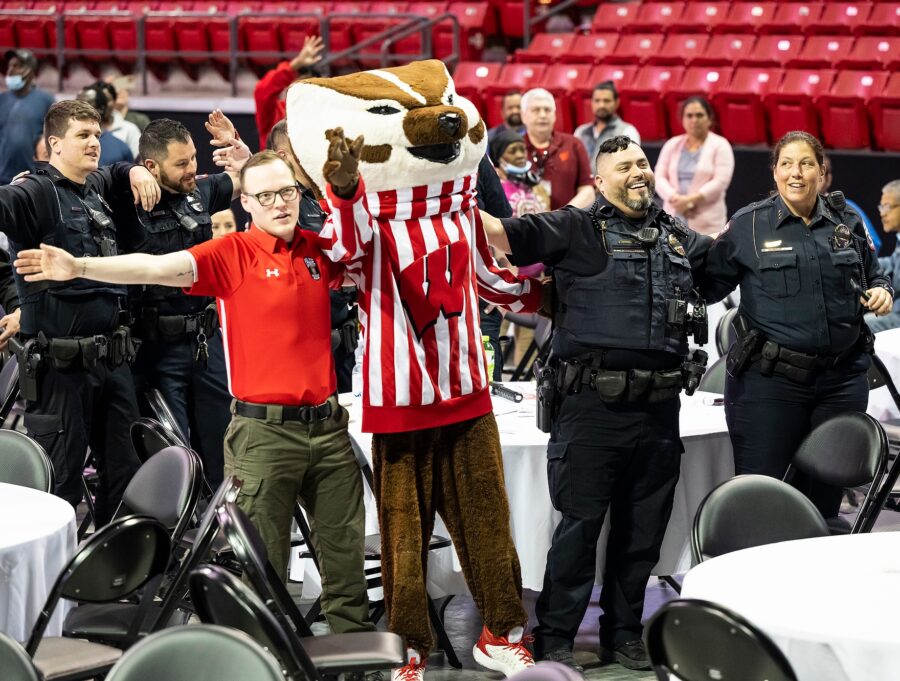 On April 11, the Kohl Center hosted an appreciation event for second- and third-shift employees who help keep UW–Madison running 24/7. Here, UW–Madison mascot Bucky Badger joined in singing "Varsity" with members of the UW Police Department, including night shift Lieutenant Juan Avila (right of center) and Assistant Chief Kari Sasso (far right).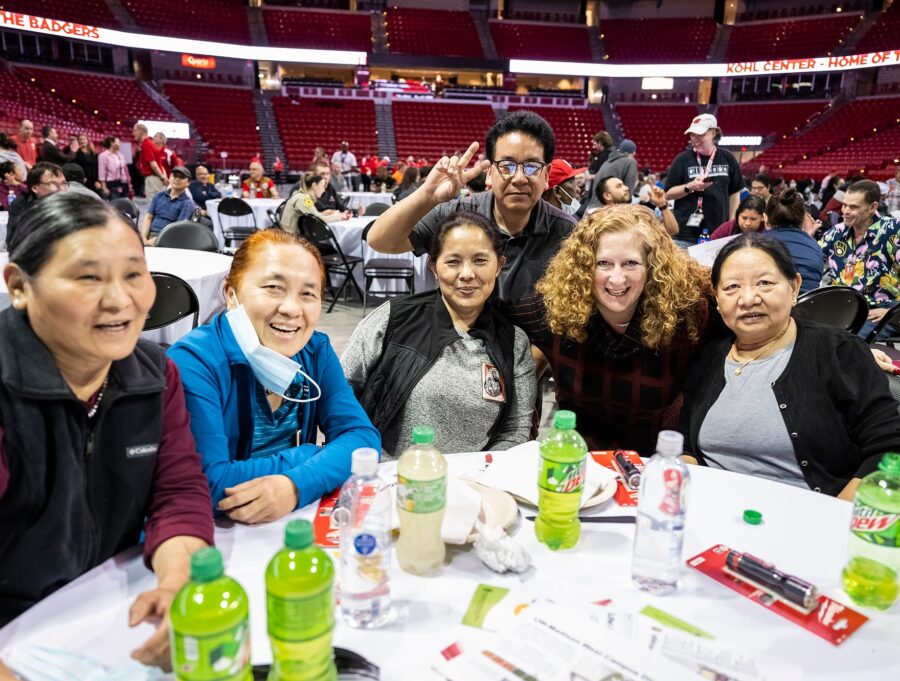 Chancellor Mnookin was there to show her appreciation for second- and third-shift staff. Everyone enjoyed food and beverages, music by the UW Band, and even some spontaneous polka dancing.
The morning of Wednesday, April 12 began with a Ho-Chunk flag raising ceremony in front of Bascom Hall. A welcome from Chancellor Mnookin marked the start of the event. Ho-Chunk Nation President Marlon WhiteEagle shared remarks and raised the flag on the Nation's behalf.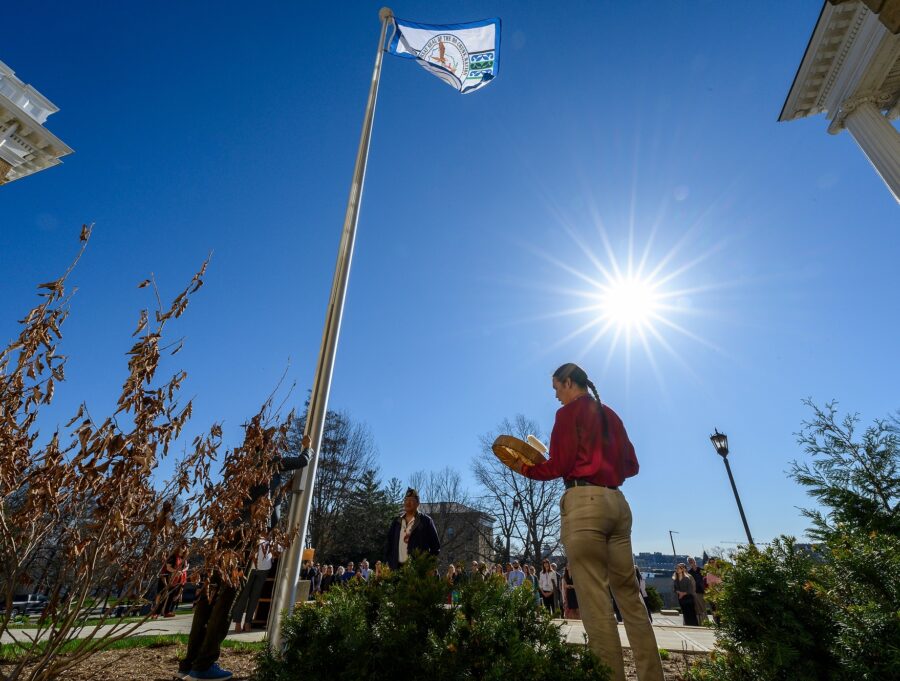 The campus inhabits land that was the ancestral home of the Ho-Chunk people, land they call Teejop (Dejope, or Four Lakes). The flying of the Ho-Chunk Nation flag is part of the university's ongoing commitment to educate the campus community about Ho-Chunk culture and First Nation's history. The flag flew for one week, April 12–19, atop Bascom Hill.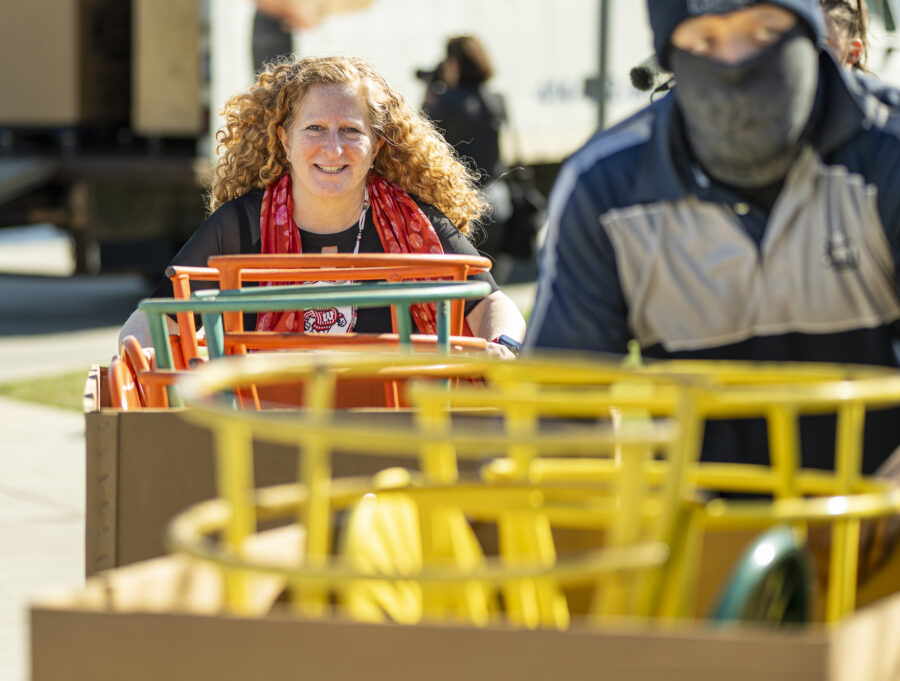 On Wednesday, the iconic sunburst chairs returned to the Memorial Union Terrace. Mnookin joined the moving crew, staff, and volunteers to help get the Terrace ready for spring.
Mnookin visited with (left to right) Charlotte Daly, Ellie Condon, and Maria Davis, some of the first students to take a seat on the Terrace this season.
On Wednesday afternoon, volunteers pitched in for a campus-wide event, Bucky's Big Day of Service. Along the Lakeshore Nature Preserve, volunteers hacked away at invasive buckthorn, clearing the understory to make space for native plants.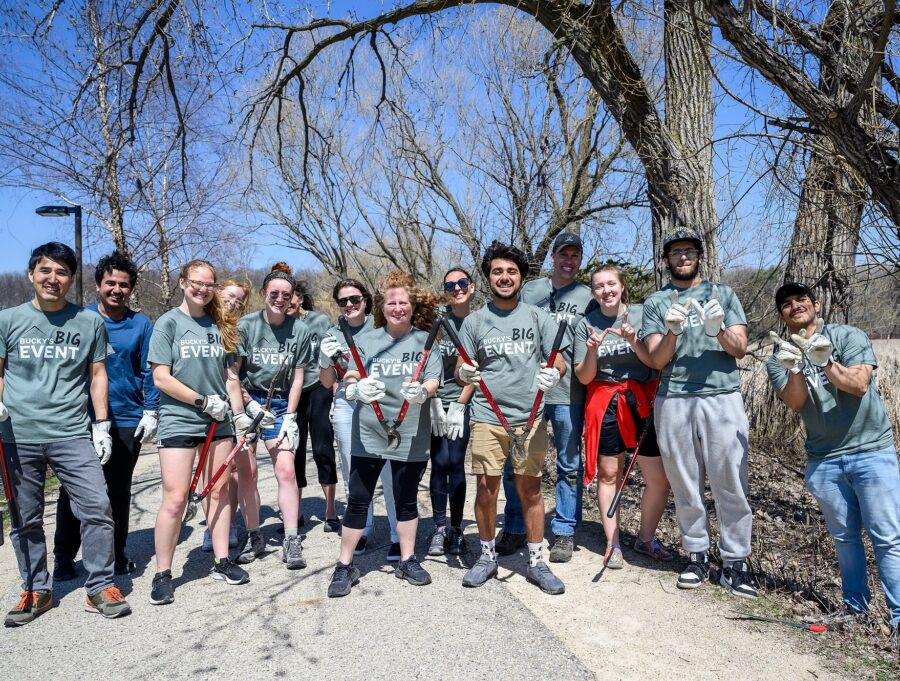 Volunteers, including the chancellor, took a break from their hard work to show some Badger pride.
Also on Wednesday, the Wisconsin Alumni Association hosted a flash talk panel, "Wisconsin Ideas: Inspiration and Insights from Extraordinary Badgers." Vice Provost for Teaching and Learning John Zumbrunnen moderated the panel, which featured talks by Katherine Cramer, Richard "Richie" Davidson, Will Hsu, Vanessa McDowell, Manu Raju, and Chris Walker.
When Chancellor Mnookin invited each of the panelists to the event, she asked them to speak about "What matters most to you? What captivates your imagination? What drives you forward?"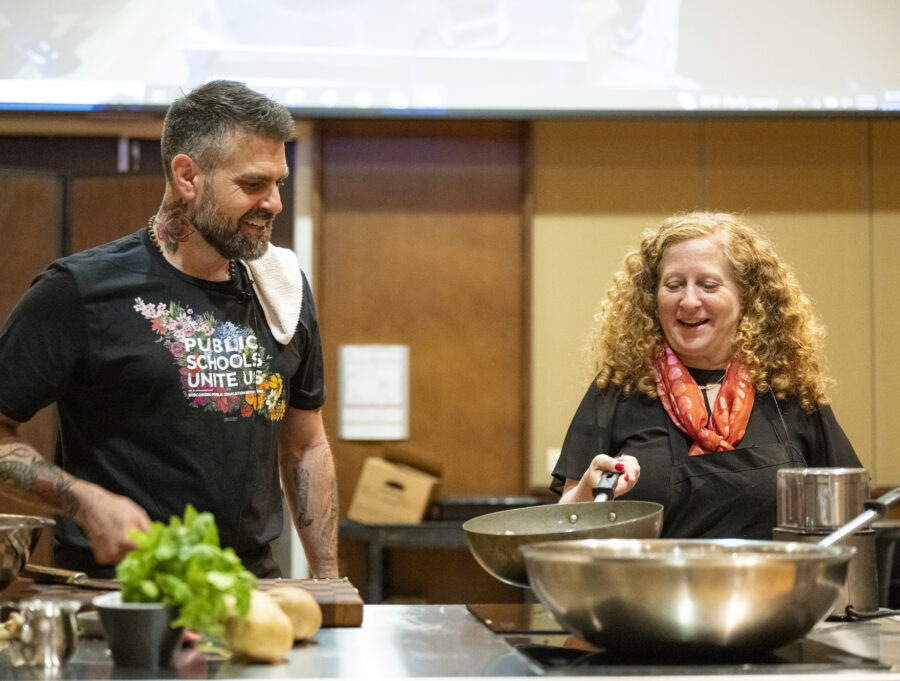 On Wednesday night, Mnookin teamed up with Emmy Award-winning host of Wisconsin Foodie, Chef Luke Zahm. Together, they put on a cooking demonstration, hosted by WUD Cuisine, for a student audience in Union South.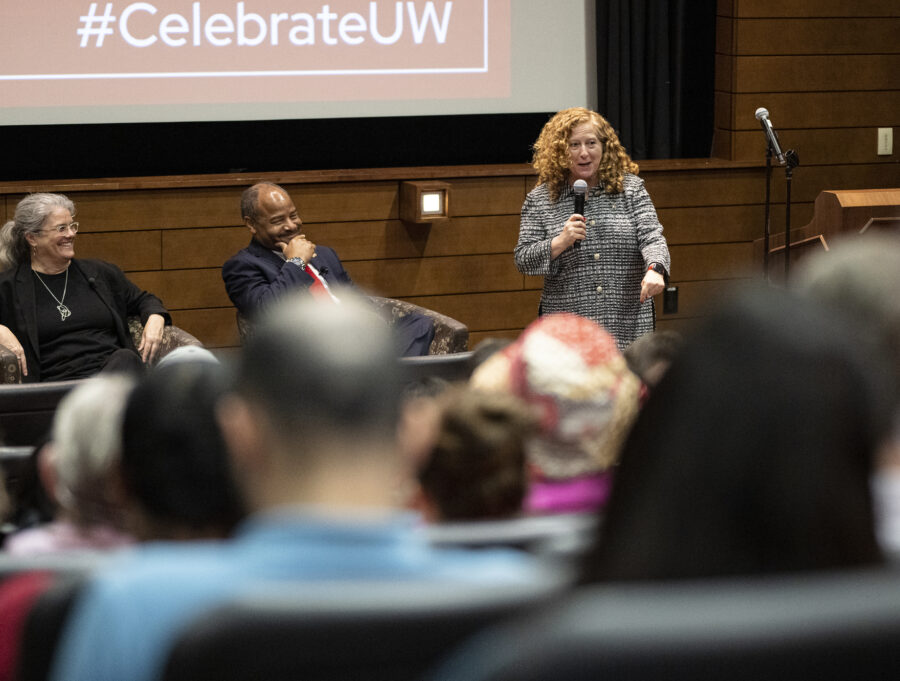 On Thursday, April 13, Mnookin opened the week's symposium event, "Discovery Past, Present, and Future: Black Holes, Neutrinos, and Life in Our Galaxy Symposium," welcoming the panelists, UW–Madison professors Francis Halzen and Susanna Widicus Weaver, as well as Andrea Ghez, a professor at the University of California, Los Angeles and good friend of Chancellor Mnookin, and moderator Eric Wilcots, dean of the College of Letters & Science. "When we talk about the Wisconsin Idea and our impact beyond the borders of our campus, it is awesome to think that there are people in our midst pushing that line beyond our planet, our solar system and even our galaxy," she said.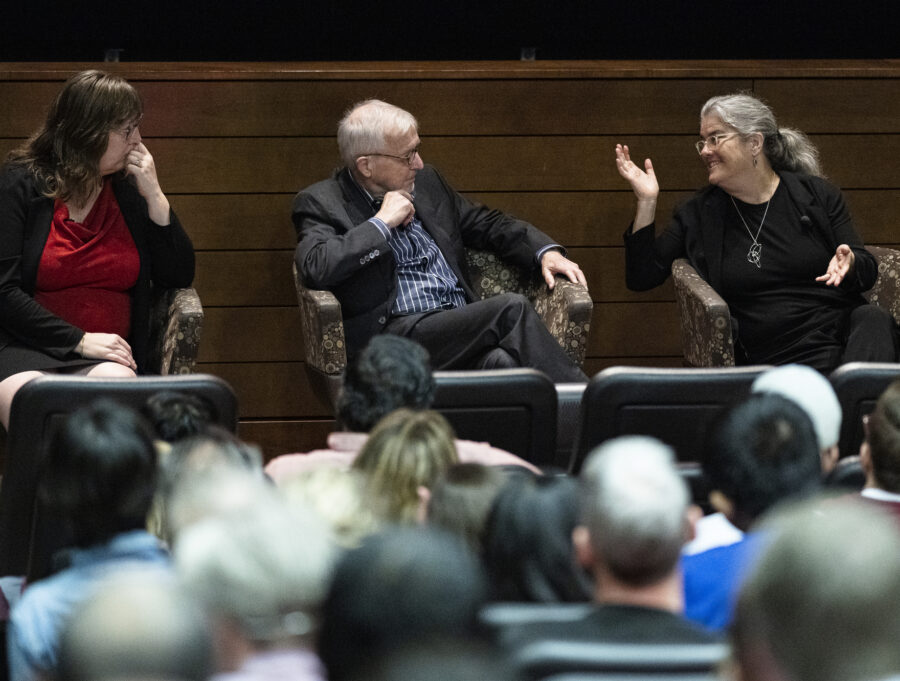 The astronomers shared the stories behind their groundbreaking discoveries and the lofty goals that lie ahead. "What's so fun about what I call 'technology-enabled discovery' is that almost everything we've been able to look at in the center of the galaxy and its environment is inconsistent with the predictions," Ghez said. "I like to call that either job security or being a kid in a candy shop."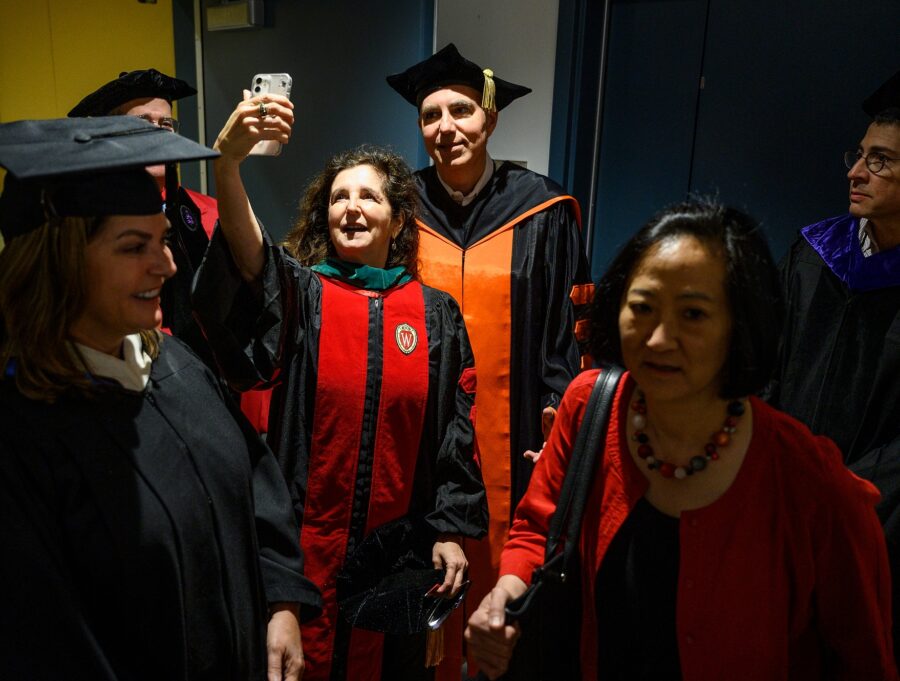 Before the investiture ceremony on Friday, April 14, Stanford University Professor Deirdre Lyell, a UW–Madison alumna, posed for a selfie with Joshua Foa Dienstag, professor of political science and Chancellor Mnookin's husband.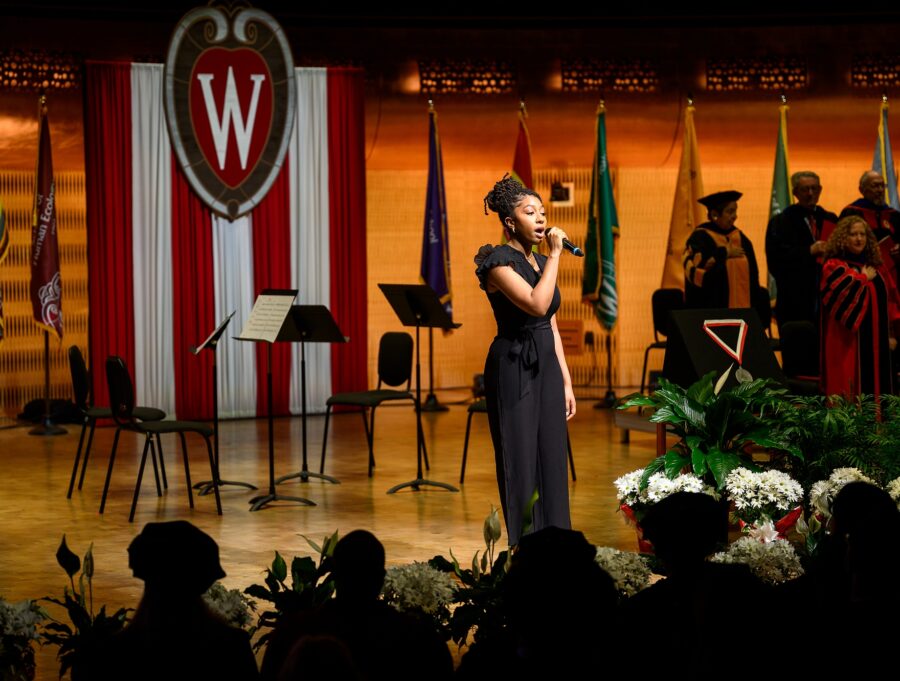 Jerzy Gillon, a student in the Mead Witter School of Music, sang the National Anthem to open the ceremony.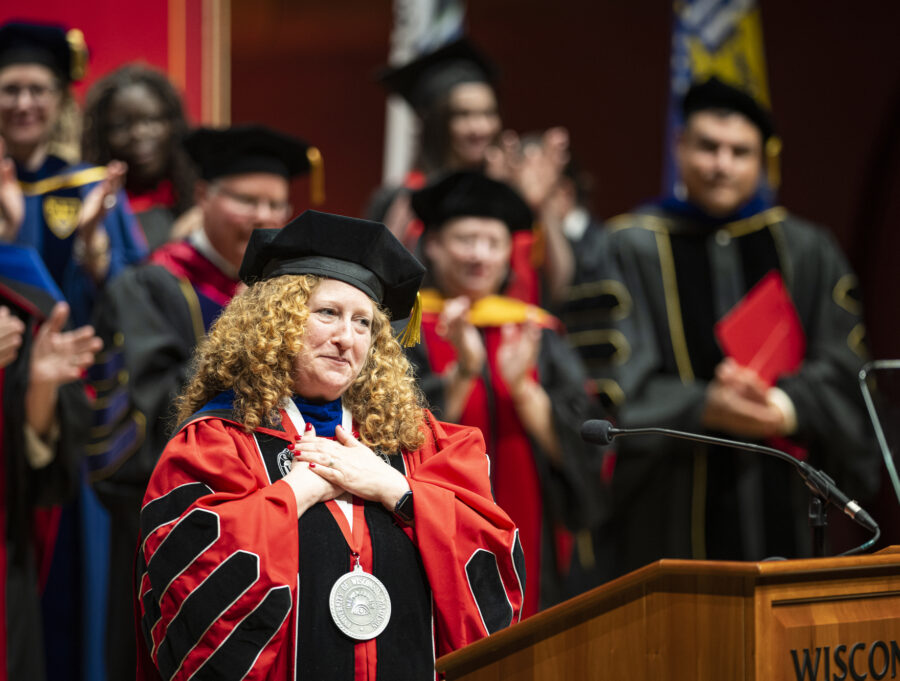 Board of Regents President Karen Walsh bestowed the chancellor's medallion on Mnookin, officially investing her as the 30th leader of UW–Madison. Having just received a medallion, Chancellor Mnookin expressed her thanks, saying that she was "tremendously grateful and humbled to be given the opportunity to lead such an incredible university."
In her remarks, Mnookin told stories of UW–Madison inventors, researchers and pathbreakers — stories, she said, that illustrate the "multiplier effect" of the university's transformational work. Mnookin called upon the campus community to grow its ambitions in the years ahead, to do still more to multiply and amplify the university's commitments to education, research and service.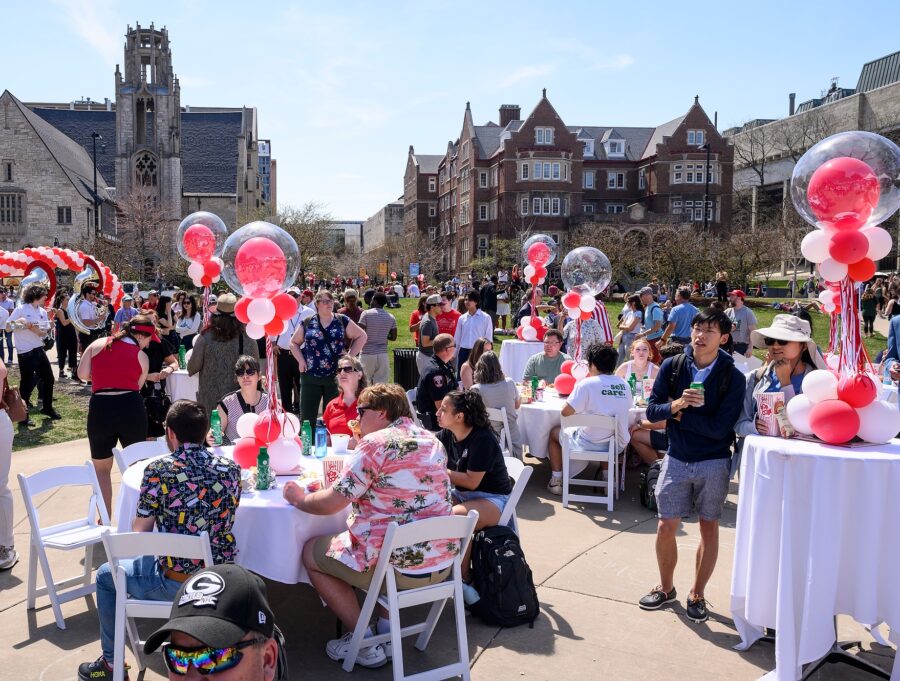 Following the ceremony, crowds gathered for a campus-wide picnic celebration on Library Mall.
The UW Marching Band played as Chancellor Mnookin and her family joined the celebration.
The campus community picnic made a joyous scene at Library Mall. "How can you not come to a picnic on Library Mall on a day like today?" asked one attendee, Bruce Beihoff of Madison, who earned a bachelor's degree in mechanical engineering from UW–Madison in 1977 and called his experience on campus life-shaping. "I've always felt great about this university. This makes me feel even better."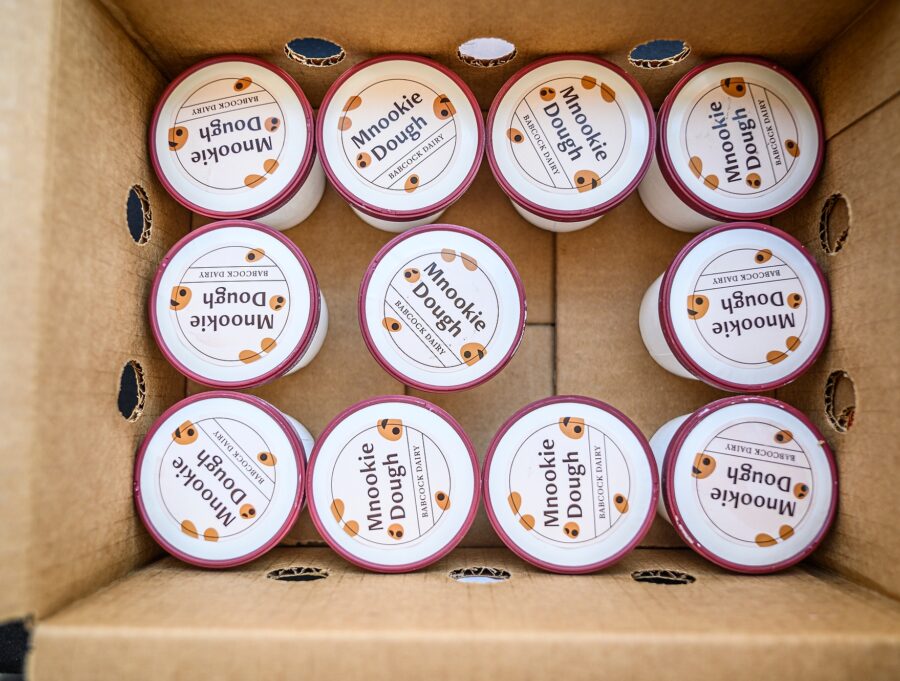 The picnic served as the big reveal for the new Babcock Dairy ice cream flavor named for the chancellor. Wait for it… Mnookie Dough. She took her first bite at the picnic and dubbed it dee-licious. "The caramel is a nice touch." One thousand cups of ice cream were handed out during the picnic.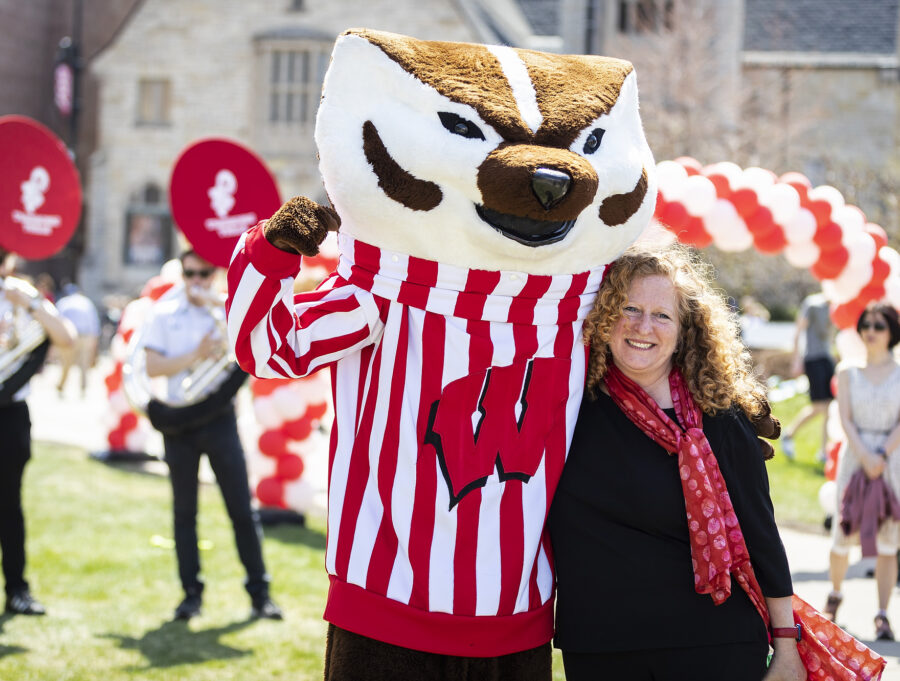 Throughout the weeklong celebration, Mnookin expressed gratitude and awe. "It makes me very, very proud to be here and really inspired that all of you are Badgers and that I get to be one now, too."